Sam Fine's DVD Release Party @ Warren Tricomi Salon My Life as Ugly Betty- Iman, Vanessa Williams, Taraji P. Henson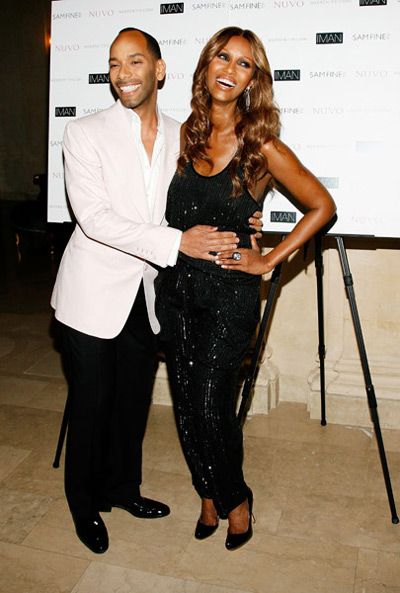 Sam Fine and Iman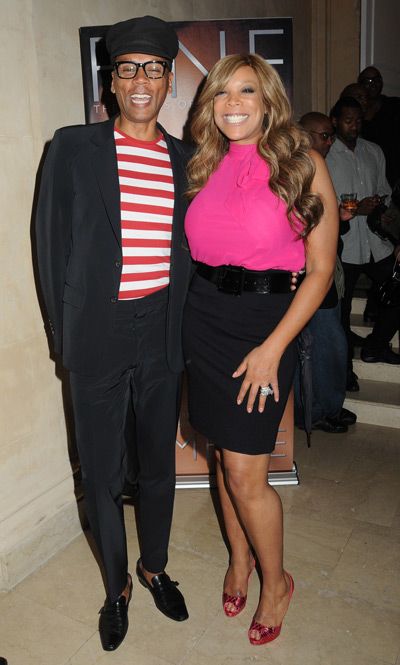 Wendy Williams and Rupaul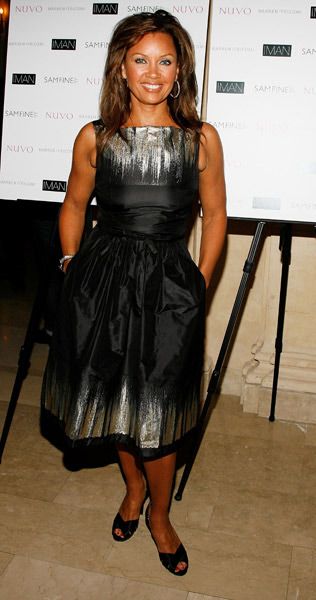 The lovely, Vanessa Williams
Last night I was so honored to be invited to Sam Fine's DVD release party. I had posted about Sam's glorious DVD a couple months ago here. He is such a nice guy it's ridiculous. Well except when you compare it to his makeup artistry talents which are even more ridic. After watching his video I honestly felt like I had been doing my makeup all wrong. I feel like he showed me dozens of amazing tricks for how I should be applying my makeup that really made a difference in how I looked. And many of them were simple tricks like how to trim your brows properly, how to apply under eye concealer so you don't look like a raccoon, where to put blush and bronzer and what shades to use.
The par-tay was amazing. Except of course that I felt like Ugly Betty. For those of you who don't know me, I may look put together but underneath it all is a girl who is always running 10 minutes late, who pulled her look together while she was doing her eyeliner while her nail polish was drying. So of course I get invited to this great party at the Plaza and it's pouring rain all day. Not just drizzling, pouring. So that means my rain gear (cue Burberry jacket and rainboots) had to come along. So I meet my friend before for a lite bite and cocktails (did I just say lite, I housed half a pizza). We arrive at the hotel and I change into my heels, I'm feeling good. There is coat check so I'm psyched I can check all my crap, my coat, my umbrella, and my rainboots—which are now in a garbage bag because as I scrambled out to make it to work on time in the morning I realized I had no appropriately sized plastic bags. Yep, I went to an event carrying a garbage bag. Glamour all the way.
Garbage bag checked, I'm all set to party. I grabbed my Nuvo cocktail (delish—so pink & girly. It was the only thing making me feel civilized at this moment). I looked around with my jaw dropped at all the gorgeous, what I am presuming to be, models. Ugly Betty Moment #2. I mean, the fashion, beauty, hair world is quite intimidating. It's basically a room full of people staring each other up and down, checking out shoes, rings, watches, hairstyles, etc. It's enough to make the most confident crumble. Lucky for me, I don't scare easily (totally lying). Iman then walked past us, OMG she is so f-ing breathtaking. David Bowie, you're a lucky man. Then I spotted Sam. What a hottie pie! He's just so adorable. I met him once but he makes you feel like you're best friends. Just love him. Then I ran into some girls that I know (and love) and the party got better. I haven't exactly mastered the art of networking so it was nice to see a familiar face. In fact, I hate networking, which makes it so hard to be trying to launch a website since I have no choice. Can we just say, the Editor of Butterfly Diary is just the nicest girl, ever.
I was such a dorky starstruck blogger Deborah Cox, Lloyd Boston, Emil Wilbekin, Wendy Williams and the like were all wandering around but after a long day of lawyering I was growing tired but couldn't leave without seeing Vanessa Williams. A few minutes later I spotted her (and the gorgeous Taraji P Henson who was hanging out in a salon chair with her friends surrounding her) and after much positive encouragement from my friend, I gathered the strength to ask Vanessa for a picture for my blog (yay Smartypanties!). So I take my camera out and alas, I remembered the camera, but forgot the memory card (Ugly Betty moment #3). Seriously? I'm such a mess! My friend convinced me to ask her to do it with her phone. I sauntered over to Vanessa Williams (who in my mind is still Willhemena Slater) and asked her for a pic for my blog. She cordially agreed and smiled. I ran away, grabbed a swag bag (Shu Uemera Eyelash curler—wahoo!, Iman makeup and more) and went home to BF (and ate more pizza on my couch—Ugly Betty Moment #432643553).
Thanks so much to Sam Fine for inviting us! We love you and your makeup DVD. I will be going out and purchasing a copy ASAP. Since I watched it I've been doing my friends makeup and they've become believers too. You rock!
Sam Fine DVD is available on SamFine.com and Amazon.com